Operations
Mans Transport has built quality relationships with our clients as reliability and great service...
READ MORE >
Fleet & Facilities
Our business is run from the Mans family owned farm just outside Stellenbosch. On the premises...
READ MORE >
Insurance
Transit insurance up to R1mil per load. Any value exceeding this can be arranged prior to departure.
READ MORE >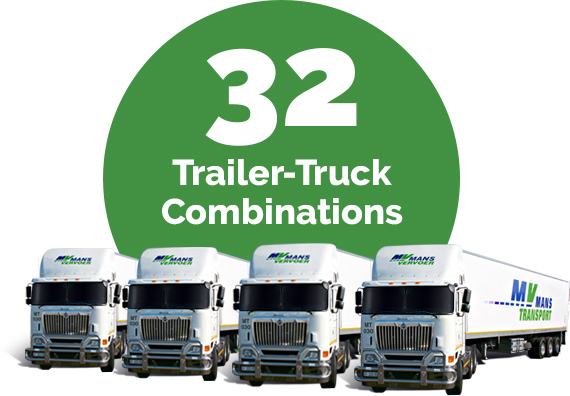 Welcome
Passion, commitment and hard work are the basic values of Mans Transport.
The company operates from the 25 hectare MANS grape farm in Kraaifontein, Cape Town which is also the site of our administrative offices, workshop and yard, for the fleet of 32 refrigerated vehicles.
From our humble beginnings we focused on a reliable service backed with honesty and integrity.
Mans Transport has been doing our Eastern Cape (George & Port Elizabeth) loads for the past 10 years. As we are in the FMCG business, Mans Transport is always adaptable to our needs and can arrange the collection of a load on short notice. Their Operations Manager is a good communicator which helps us with the service delivery to our Depots.Their drivers are all friendly and arrive with their trucks on time, clean and hygienic.I will recommend Mans Transport any time to anyone.

Mans Transport provides a professional, fast, friendly and reliable service. They will not hesitate to go the extra mile for their clients.

In the time we have worked together we have always found their service to be excellent. They are extremely professional in how they operate the business.
Well done MANS Transport, keep up the great work.